Since Mother's Day is fast-approaching and so many of us are busy making meal plans, I thought this would be the perfect time to give you a list of some of my best "mom-friendly" recipes. And since Brunch is most often the meal of choice for honoring our moms, here are some of my favorite Brunch recipes. Don't forget, Mother's Day is May 9! Show your mom how much you love her by hosting a relaxing Brunch with these simple, delicious dishes!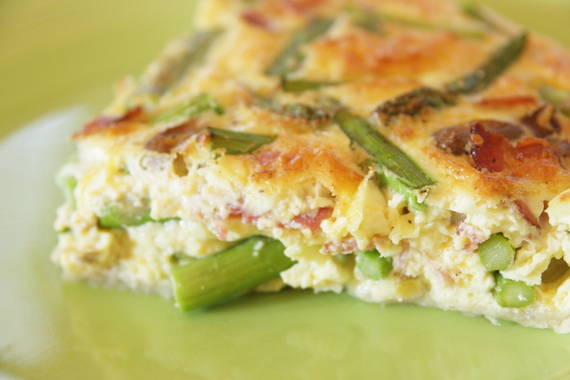 Bacon, Asparagus and Mushroom Quiche– everybody loves quiche; and luckily, this one is as simple as they get! If you're short on time, use a store-bought pie crust. Mix the filling, pop it in the oven, and presto! Hot, delicious quiche!
The Pioneer Woman's Cinnamon Rolls – I made these for my Mother's Day Brunch last year and they were a HUGE hit. And let me tell you, I felt oh-so proud of myself for conquering yeast and ending up with such a delicious result! If you're as scared of yeast as I am, don't worry – these are so simple and straight forward, they're almost fool-proof! You can do it! And you'll look like a rock star making awesome homemade cinnamon rolls for everybody!
Or if you're short on time but still want delicious cinnamon rolls – these Easy Sticky Buns are perfect! They use frozen puff pastry so they come together in literally no time, but they're not lacking in flavor (or wow factor!)!
Here's another super-quick one: Lindsay's Simply Sweet Coffee Cake– it's as simple as arranging refrigerated biscuits in a pan, topping with melted butter, cinnamon and sugar and baking. Easy and delicious!
Bacon, Egg and Cheese Breakfast Strata (you'll need to scroll down to the bottom of the post, there are a couple of other recipes in there)- I made this for my first Mother's Day Brunch and it was sooooo good! The good news is, you can make it the night before and bake it the next morning, so there's no stress involved! I love the green chiles in this; they really add a great burst of flavor that goes really well with the eggs and bacon.
Anytime I serve brunch I always like to have a variety of baked goods, fresh fruits, savory dishes and drinks. Also make sure you've got a good balance of sweet and savory (personally, I always tend to lean more towards the sweet side, since my family definitely likes their sweets!). If you didn't see anything here that floats your boat, head over to my friend Katie's blog, Good Things Catered; this girl knows her Brunch! She has such wonderful tips for hosting and entertaining- you're sure to get some fantastic ideas from Katie!
Whether you're hosting or maybe just bringing a covered dish to your sister's house this Mother's Day, I hope I've given you some good ideas to help get you started. These are all great, no-fail recipes that are super simple and super delish (that's pretty much what I'm all about!)- and they're great for anytime, not just Mother's Day! Enjoy!
**And don't forget about my $60 giveaway that ends May 7th! 🙂