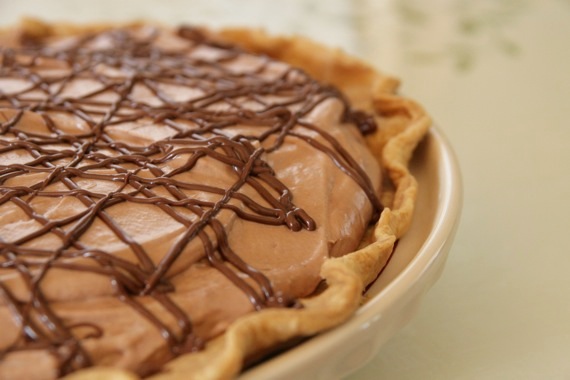 One question: are you ready for this??? Are you ready for the sheer awesomeness?? Love brownies? Love Nutella? Love pie??? How about a Brownie-Nutella Mousse Pie?! Golly, I'm getting excited all over again just thinking about it! This pie will seriously blow your mind- it did ours! In fact, it was so delicious, I felt the need to immediately text my sister to tell her just how awesome it was.
I wanted to try this idea out because I love to spread Nutella on my leftover brownies (yum) and I had seen this recipe floating around – I decided to sort of combine the two and ended up with the Brownie-Nutella Mousse Pie….thank you, Pie Gods. Thank you. The Nutella mousse in itself is out of this world – I had to force myself to stop eating with a spoon! The cream cheese really gives it a fantastic, rich flavor. And combine that with a brownie??? Pure heaven. You simply MUST try this.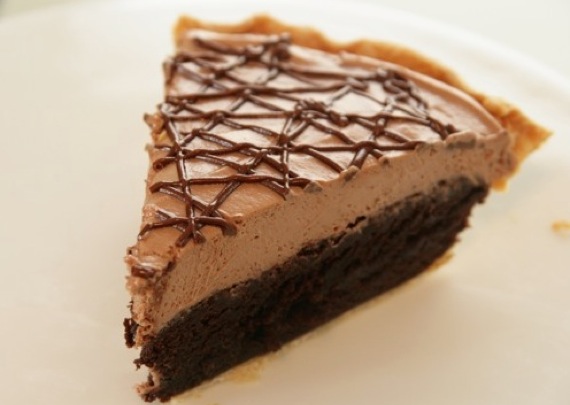 Blow Your Mind Brownie-Nutella Mousse Pie
1 9-inch pie crust, unbaked
1 box brownie mix (or homemade)
5 ounces cream cheese, softened (this is slightly more than half of an 8-oz block)
1/2 cup Nutella, plus more for drizzling
1/2 pint heavy whipping cream
2 tablespoons sugar
1 teaspoon vanilla
Preheat oven to 350 degrees. Make brownie batter as directed on the box and pour into a prepared pie crust. Bake for 35-45 minutes, or until a toothpick comes out clean. Let cool completely.
Using a mixer, whip the cream, sugar and vanilla until stiff peaks form. Transfer to another bowl and set aside.
In the same mixer bowl, mix Nutella and cream cheese until well combined. Spoon in 1/3 of the whipped cream and gently fold in. Repeat with remaining whipped cream- be careful not to stir- it won't be as light and fluffy. Chill the mousse until the brownie layer is completely cooled.
When the pie is cooled, spread the Nutella mousse evenly over the brownie layer. Drizzle with remaining Nutella (either microwave it on low heat for a few seconds or heat it on the stovetop over low heat to thin it out slightly.) If you want, you can use a piping bag with a #3 tip to do this, or use a plastic bag with the tip snipped off. Serve and enjoy the brownie-Nutella awesomeness!!
**Don't forget about my $60 giveaway– 3 more days to enter!!**