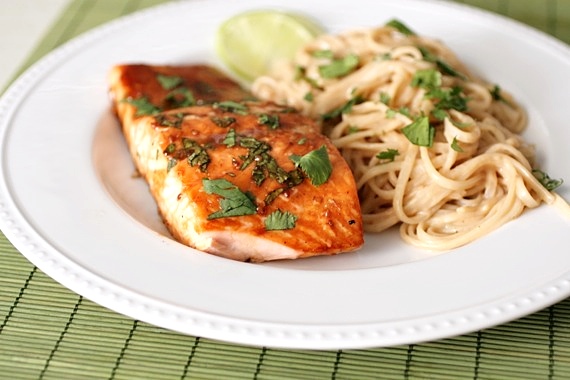 Oh man. Are you ready for a FANTASTIC meal?? This salmon surprised us in the best possible way. I found some bottled ginger-sesame sauce/glaze at the store along with some beautiful looking salmon and decided to throw together a quick Asian-inspired dinner. Wow and WOW. Not only did this meal come together in less than 30 minutes, it blew us away. The ginger-sesame sauce would have been nice on its own, but the addition of lime juice, brown sugar, soy sauce and cilantro really took it over the top. The glaze keeps the salmon nice and moist and the flavors of ginger and cilantro combined with the salmon was an excellent combination. I served it with some quick noodles with peanut sauce and it really was the perfect quick, delicious weeknight meal. You really need to try this one!
Asian Glazed Salmon
2 salmon filets
2 tablespoons ginger-sesame sauce (I used an organic brand called Full Circle, but any ginger sesame-based marinade or dressing [not salad dressing] will do. If you can't find this, a teriyaki sauce will do)
1 tablespoon reduced sodium soy sauce
squirt of fresh lime juice
1 rounded teaspoon brown sugar
cilantro
In a small bowl, stir together the ginger-sesame sauce, soy sauce, lime juice, brown sugar and cilantro until combined.
Preheat the oven to 400 degrees. Place the salmon filets, skin side down, on a baking sheet lined with greased foil. Brush with half of the marinade and bake for 10 minutes. Brush with remaining marinade and return to oven for 10 minutes more until salmon is cooked through. Top with additional cilantro. Serves 2.
Recipe source: Sing For Your Supper original