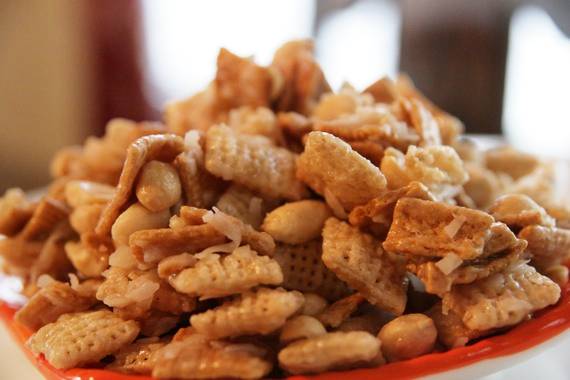 Every year we get together with my family for a Halloween movie night. We eat fun snacks and watch our favorite Halloween movies (things like Hocus Pocus and Disney's Icabod Crane…good stuff!). This year I wanted to bring something really yummy to snack on, so when I saw this recipe for "Goblin Grub" on Our Best Bites, I immediately printed it off and bought all the stuff to make it. Turns out, this was one awesome snack! Everybody loved it and it got gobbled up pretty quickly! The recipe makes a TON, so if you aren't expecting a small army of guests, I'd suggest making only half. You could do like Our Best Bites did, and make cute little gift baggies for everyone, or you could just serve it in a big bowl and let everyone go wild. Either way, this is some fantastic Halloween party food!
Goblin Grub (Chewy Chex Cereal Mix)
-Our Best Bites
6 1/2 c. Rice Chex
4 1/2 c. Golden Grahams
1 c. sliced almonds (I used peanuts)
2 c. coconut
3/4 c. (1 1/2 sticks) real butter
1 c. sugar
1 c. light Karo syrup
1 tsp. vanilla
In a VERY LARGE bowl, combine cereal, almonds, and coconut. Set aside.
In a large saucepan, combine butter, Karo syrup, and sugar. Bring to a boil, reduce heat, and cook for three minutes. Remove from heat and stir in vanilla. While the mixture is still hot, pour over the cereal mixture. and stir well so the candy mixture coats the cereal.
If you have leftovers, it stores nicely in a ziploc bag.