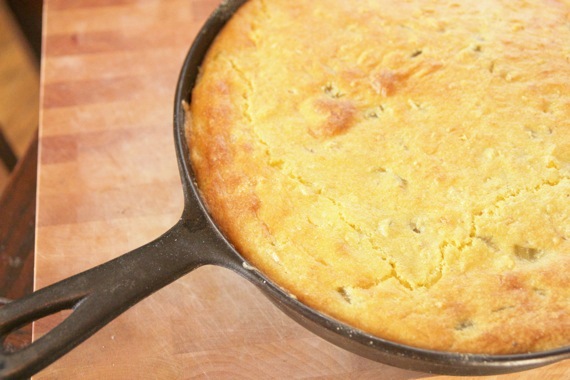 The weather is (slowly) changing from boiling hot to cool and crisp, every Saturday from here until Thanksgiving will be taken up with us either road-tripping to College Station, Tx or glued to the T.V., there's an obscenely large, menacing maroon and white flag flying proudly in our front yard, and my husband has turned from being a mature, respectable man into a squealing 8 year-old child. This can only mean one thing: it's Aggie football season, indeed. Yes, friends, my husband and I are Aggies. Big ones. My hubby went to school there and even though I didn't (there's no music program to speak of, hardly), I come from a family of proud Aggies. Therefore, every September, we get serious about Fightin' Texas Aggie Football.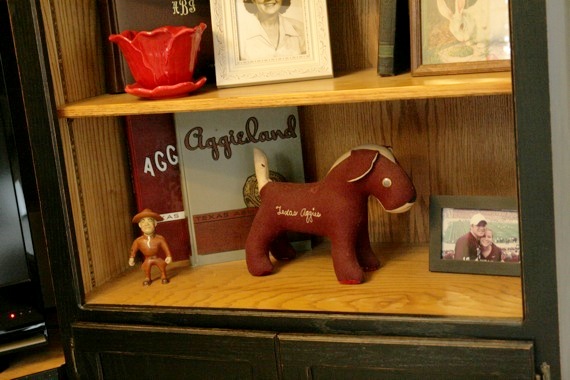 This is our "Aggie shelf" in the living room- these were my granddad's belongings from his days at A&M – yearbooks, (very old) stuffed animals and lots, lots more. We're so proud to display his things in our home; Joel, especially.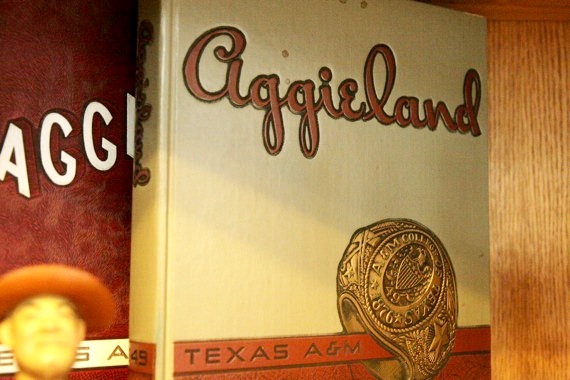 Football food is SO good (which, by the way, if you love it as much as I do, check out my "Football Food" tag! Lots of game-day goodies in there!). There's nothing better than having some friends over to watch the game and eat good food – like this pie! It's an old family favorite that gets made a lot around football season. I love the layer of spicy beef and cheddar cheese- it has SO much flavor! The good news is, this keeps really well in the fridge- just pop the leftovers back in the oven for 10 or 15 minutes and it's just as moist and flavorful as it was the first day- maybe even better!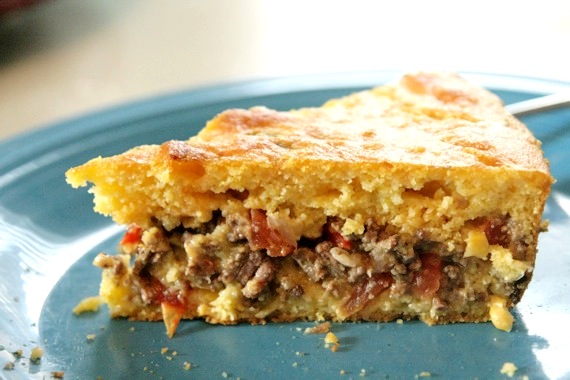 Game-Day Mexican Cornbread Skillet Pie
1 1/2 cups cornmeal
1 teaspoon salt
2/3 cup oil
1 cup sour cream
3 teaspoons baking powder
1 can cream style corn
2 eggs, slightly beaten
1 small can green chiles
2 cloves garlic, minced
1 onion, chopped
1 red bell pepper, chopped
2 roma tomatoes, seeded and chopped
1 pound lean ground beef
1 teaspoon cumin
1 teaspoon chili powder
1 teaspoon black pepper
1 teaspoon salt
dash cayenne pepper
1 cup shredded cheddar cheese
Preheat the oven to 350 degrees. Mix the first 8 ingredients in a bowl and set aside. In a medium pan, saute the onions, garlic and peppers over medium-high heat until soft. Add in the ground beef and cook through. Drain off grease and stir in the tomatoes, cumin, chili powder, black pepper, salt and cayenne pepper. Remove from heat.
Grease a cast iron skillet (or any oven-safe skillet) and sprinkle the bottom with a little cornmeal. Spread half of the cornbread mixture, followed by the beef mixture. Top with the cheddar cheese, then spread the remaining cornbread mixture over the top. Bake for 45-50 minutes, or until golden brown. Enjoy in front of the T.V. while cheering for your favorite football team! Serves 4.
Recipe source: Sing For Your Supper original (though technically I guess I can't take credit since my mom has been making it for years!)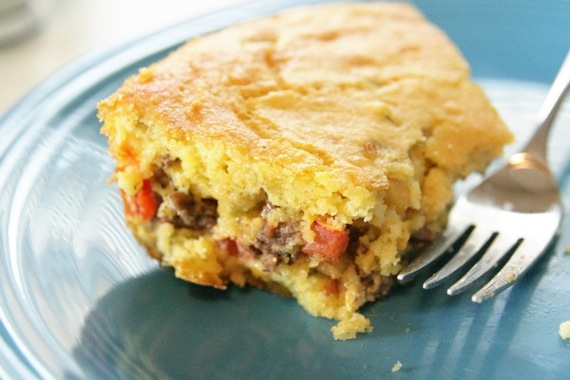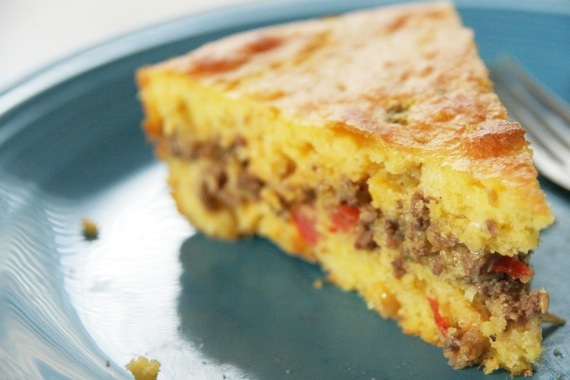 Gig 'Em and God Bless! 😉