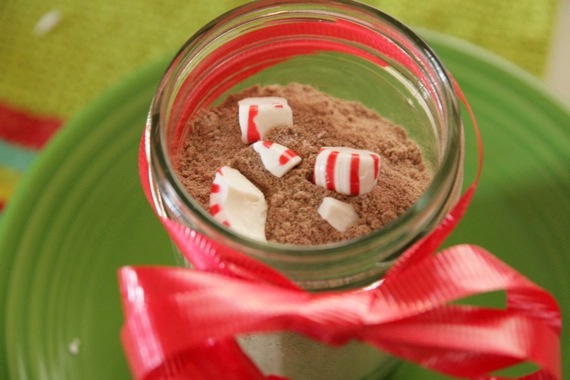 Here's another quick and easy homemade gift idea: chocolate coffee mix. It's so simple to throw together and tastes so good on cold winter mornings! In fact, I think a jar or two of this, a jar of spiced tea mix and some delicious homemade treats like cookies, peppermint bark or Chex Mix would make one heck of a gift basket for your friends, family and coworkers! Everybody loves gift baskets full of homemade goodies, right? Right!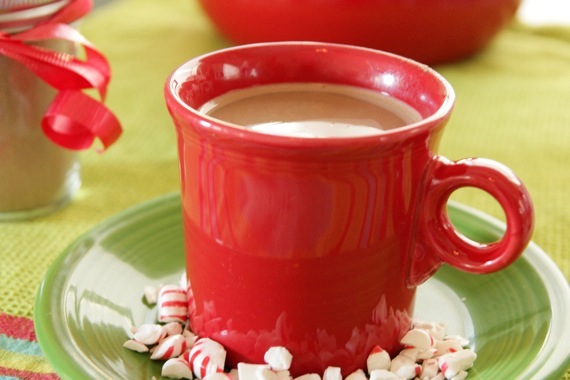 This is another one of my mom's yummy recipes (she has a ton of awesome holiday drink mix recipes!), and somehow I only just discovered it this year! I made a double batch of it and every morning I have a big cup- it's a perfect way to start my day (believe me, when you teach high schoolers how to sing, you need something a little more special than regular coffee to get you geared up in the mornings…..maybe coffee with liquor in it…..or maybe just straight liquor…). 😉 Make this chocolate coffee part of your gift-giving this year- your friends will thank you!
Chocolate Coffee Mix
-from my mom's recipe collection (not sure of the original source)
1/2 cup instant coffee (I'm sure espresso powder would be great as well!)
1 1/2 cups powdered Coffeemate creamer (original flavor)
1/2 cup Nesquik (powder)
1/4 cup sugar
dash salt
1/2 teaspoon nutmeg
Mix all ingredients in a blender or food processor until well combined.
To serve: use 1-3 heaping teaspoons per cup of boiling water.
*Also tastes delicious with a little crushed peppermint thrown in the mix!
**For gift-giving, I recommend making a double (or even triple!) batch since the recipe doesn't yield very much