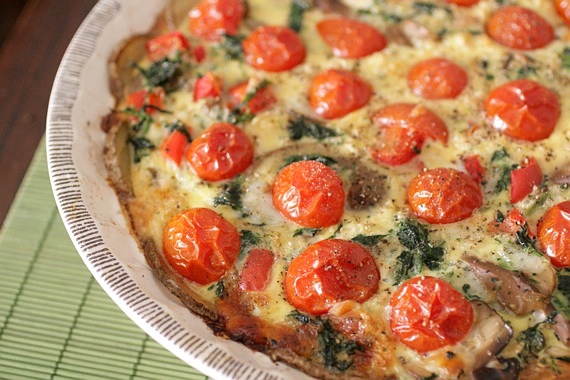 Quiche is just about my favorite quick-fix dinner. More than likely, I always have everything I need in my fridge and pantry to throw together a delicious meal in under an hour! My mom has a great recipe for quiche made with frozen hashbrowns as the crust, which was my inspiration for this. I sliced potatoes super thin and made a nice, crispy crust- something I think I'll be doing a lot more in the future, this was delicious! The great news is, we felt great about eating it because it was so packed with vegetables and not sitting in a butter-loaded pastry crust (not that I really mind butter-loaded pastry…)! I used an unusual cheese in this quiche – a delicious Mexican Marigold Mint Caciotta that my sweet husband put in my stocking this Christmas. It comes from a local cheese factory in Dallas called the Mozzarella Company. Deeeeeeelish!!! However, this quiche would be great with goat cheese, feta or even plain 'ol cheddar. Whatever cheese you have on hand and want to use would be just fine- that's the beauty of quiche!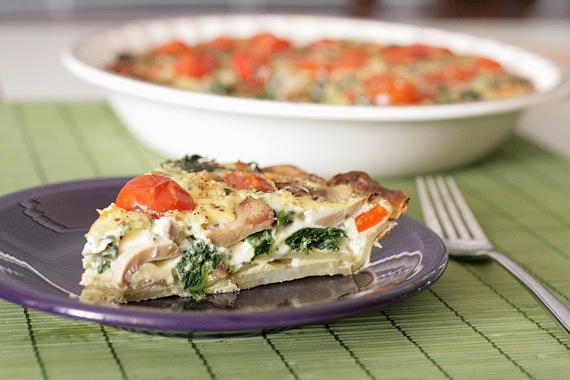 I just love how colorful it is!
Spinach and Tomato Quiche with Potato Crust
-my recipe
2 medium Russet potatoes, scrubbed and sliced into very thin disks (less than 1/8 inch)
1 1/2 tablespoons olive oil
salt and pepper to taste
1 small red bell pepper, chopped
1/2 cup frozen spinach, thawed and drained of all liquid
1/2 cup sliced mushrooms (canned works fine)
5 or 6 cherry tomatoes, cut into halves
1/2 cup cheese (any cheese you have on hand- cheddar is always great)
7 eggs
3/4 cup milk
Preheat oven to 400 degrees. Layer the sliced potatoes in an even layer in the bottom of a pie plate or quiche pan, overlapping the edges a bit. Brush with the olive oil then sprinkle with salt and pepper. Bake for 20 minutes, or until the potatoes are cooked through and slightly crisp. Reduce the oven temperature to 375 degrees.
In a large bowl, combine the red pepper, spinach, mushrooms and cheese. Spread mixture in an even layer into the potato crust, then place the tomatoes cut side down on top of the vegetables.
In another large bowl, combine the eggs, milk and salt and pepper. Whisk until totally combined. Pour over the the vegetables. Top with additional black pepper, if desired. Bake for 35-45 minutes, or until a knife inserted  in the center comes out clean. Let cool for at least 10 minutes before slicing.
Serves 4