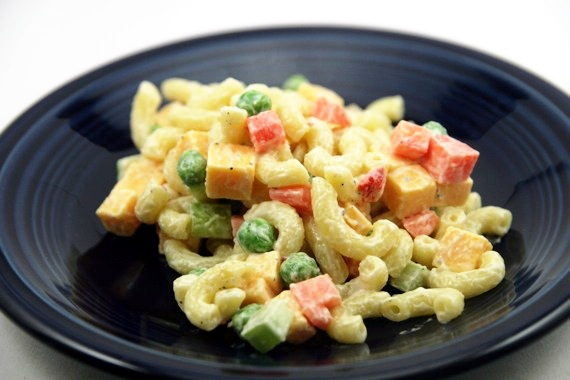 I realize I've sort of been MIA lately, but I have a good excuse – my sweet hubby took off Thursday and Friday to be with me and relax a bit (and wasn't his timing impeccable? We've had nothing but NCAA tournament on for 4 days straight!). We've had such a wonderful 4 days together – we cooked together, played games (I've almost gotten to the point where I can beat him at Mario Cart…almost), took nice, long walks with Izzy, and he even helped me paint our dining room table! There's nothing I enjoy more than spending time with my husband (especially when life is SO happy and care-free)!  I just hate that he's back at work now, and unfortunately, my Spring Break is over as well- it's back to work tomorrow for me too. 🙁
While we were enjoying our free time, we decided it would be nice to grill hamburgers and hot dogs; and one of my favorite things to serve with grilled burgers is macaroni salad. Mmmm! Macaroni salad is just one of those foods that puts me in a good mood. It's crunchy, creamy, slightly tangy…I just love it! I just sort of "threw" this one together and it was actually one of the best tasting macaroni salads I've had! Our favorite part is definitely the little cubes of cheese – we loooove cheese! These measurements are just approximations, so be sure to taste as you go along and add additional seasoning or ingredients as needed to suit your tastes.
Creamy Macaroni Salad
1/2 pound macaroni, cooked, drained and completely cooled.
3 small carrots, diced
1 celery stalk, diced
1-2 Tablespoons jarred pimento
1/2 cup frozen sweet peas, thawed
1/2 cup cheddar cheese, cut into small cubes (we like more cheese, so I ended up using closer to 3/4 cup)
salt and pepper to taste (we like lots of black pepper)
1/2 cup mayonnaise
1/2 teaspoon dijon mustard
1/2 cup Creamy Italian salad dressing
Mix all ingredients in a large bowl. Taste for seasoning. Chill for at least 1 hour before serving.