Cubes of buttery pound cake are drenched in a decadent rum syrup, then dipped in dark chocolate for a sweet little bite that packs BIG flavor!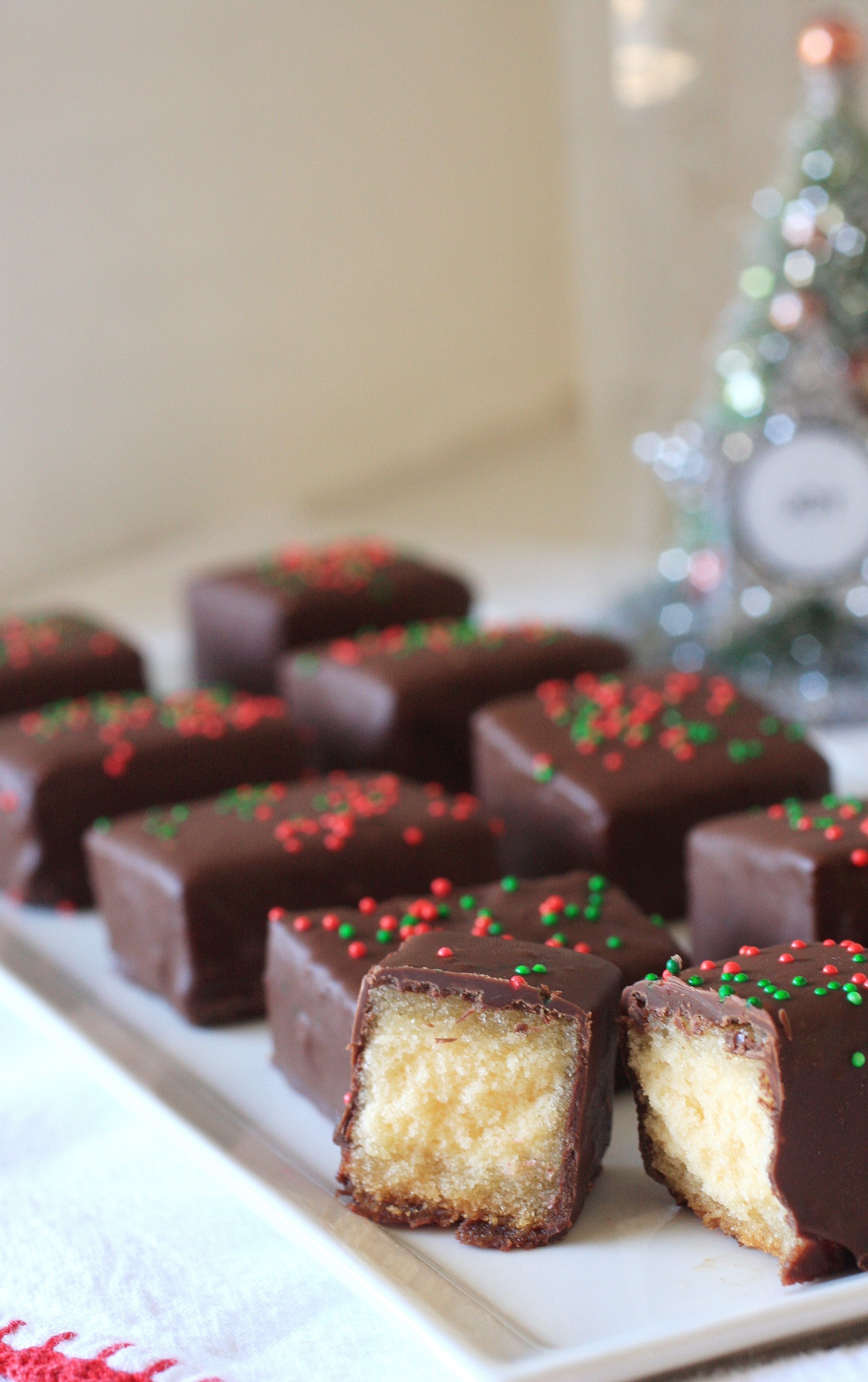 Let me just tell you guys; I am SO pumped about Christmas baking this year! Last year I was pregnant with Elliott and sick and miserable (bah, humbug!) all the time, so I had zero desire to stand in the kitchen and bake anything. I managed to bake our traditional M&M cookies for Santa Claus with Cassidy, but that was about it. Now that Elliott is old enough to really enjoy his bouncer and spend more than 5 minutes in it, I'm able to devote lots more time to baking and being in the kitchen and I'm LOVING it! Cassidy is loving helping me, too.
She didn't really help me with these because they're a very adult Christmas goodie. Not sure I want my 3 year old messing around with rum syrup. Although, I'm quite happy to mess around with rum syrup. One smell of this stuff and I want to bathe in it! I am an absolute sucker for my family's rum cake, so I knew this recipe would be right up my alley. Pound cake? Good. Chocolate? Gooood. Rum syrup? GOOOOD.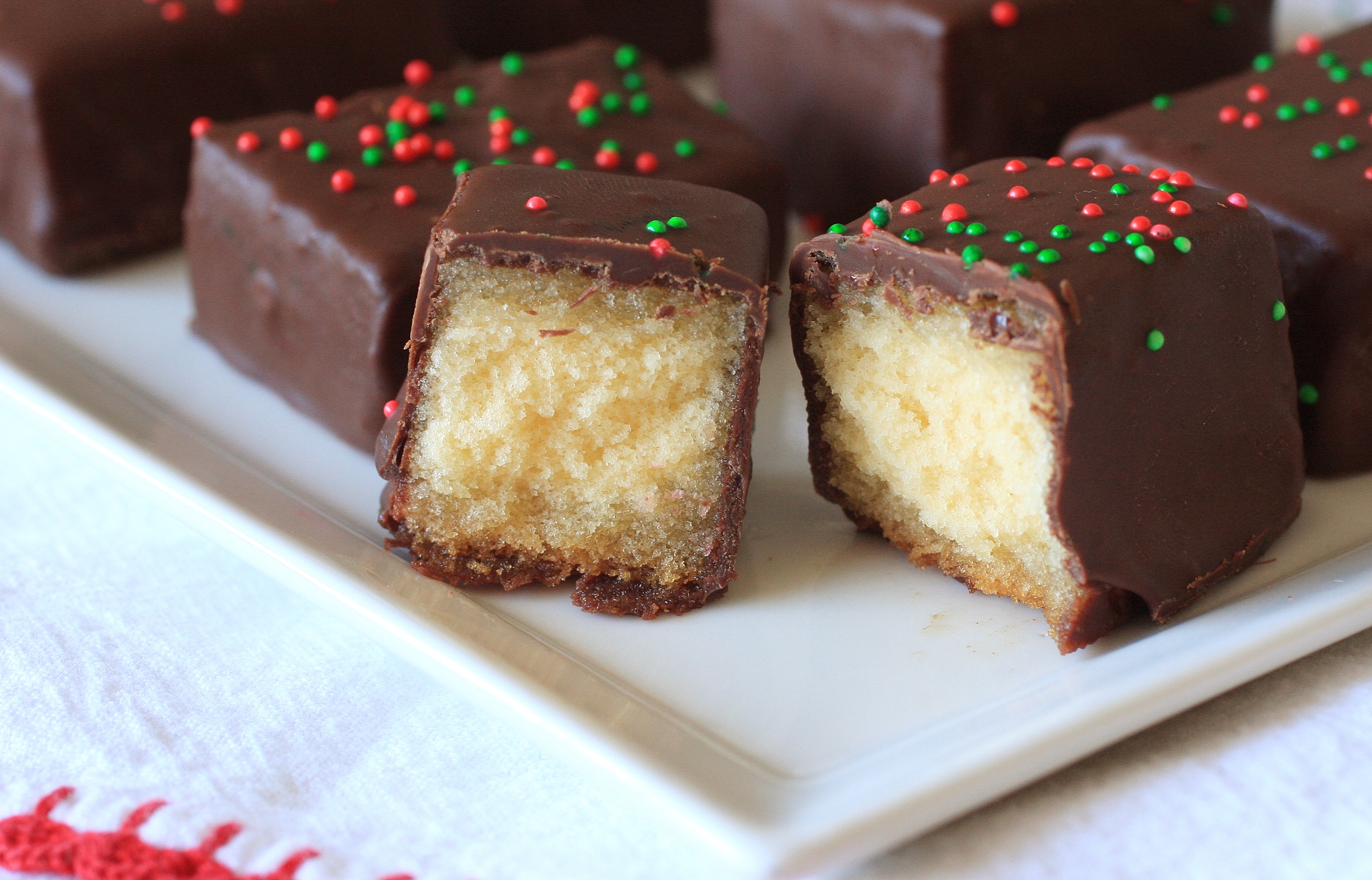 These did NOT disappoint! Upon taste-testing, Joel and I each popped one in our mouth and immediately gave each other the "OHMYGOSHTHISISAMAAAAAZING!!!" look. Very minimal effort, too, I might add. Granted, there are multiple steps involved, but each step is super simple. I'm anxious to try this again with different liqueurs- amaretto, raspberry, orange…all good ideas!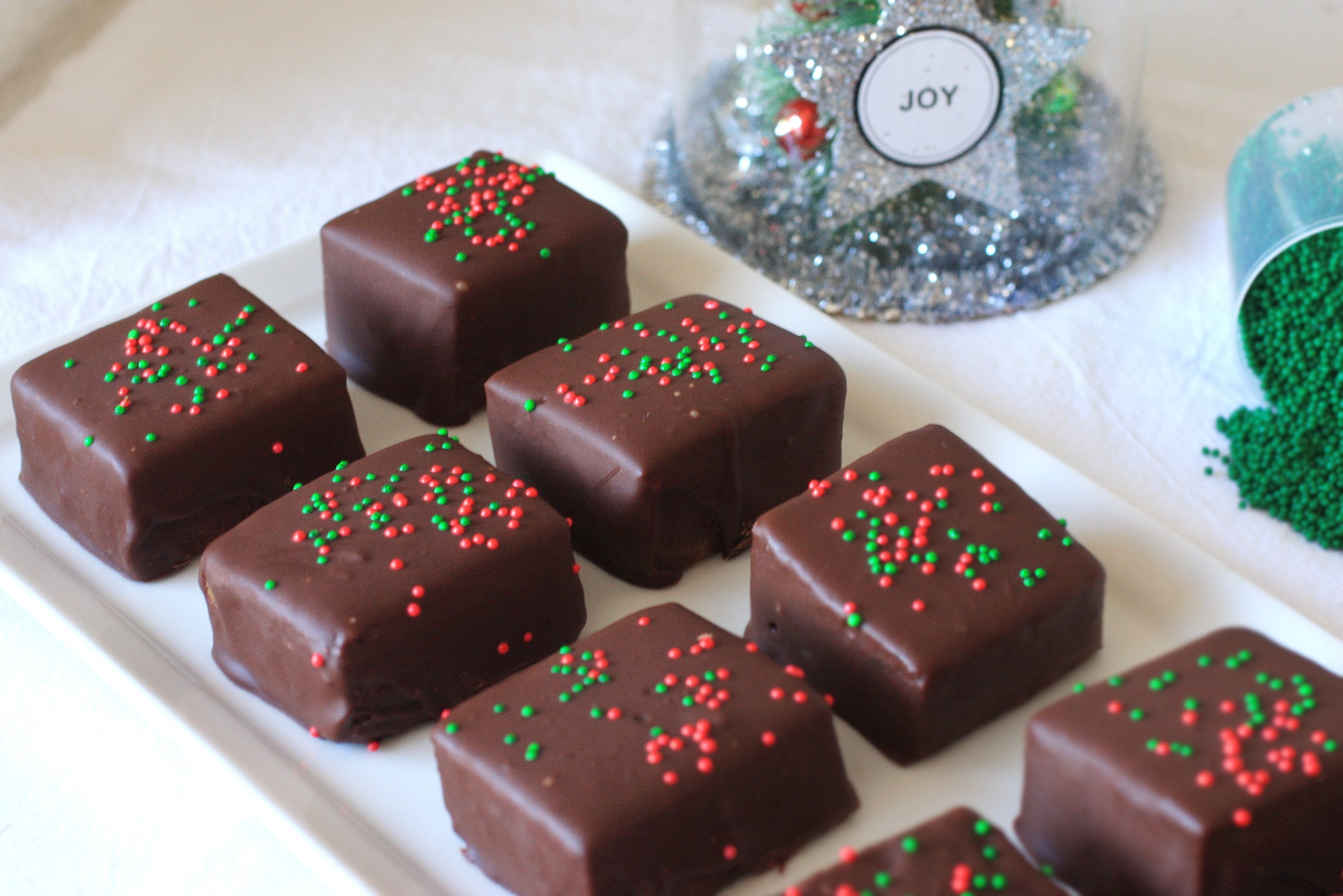 Chocolate Dipped, Rum Soaked Cake Bites
1 pound cake, homemade or store-bought. I used the Sara Lee pound cake found in the freezer section of the grocery store. It worked great for this!
1/2 cup granulated sugar
1 tablespoon corn syrup
3 tablespoons water
pinch salt
1/2 cup dark rum
2 cups dark chocolate (I used Guittard semi sweet)
2 tablespoons shortening
Cut the crusts off of the pound cake and cut into 1 1/2 inch cubes. Place in a single layer in a pie plate or platter with a little bit of a lip (to keep syrup from dripping off).
Line a baking sheet with wax paper.
In a small saucepan, mix together the sugar, corn syrup, water, and salt. Stir over medium heat, until the mixture starts to boil and sugar is dissolved, about 2 or 3 minutes. Remove from heat and let sit until cool. Add the rum.
Pour the rum syrup over the cake pieces and allow them to soak for about 5 minutes. I didn't use all of the syrup, but you certainly can if you want a soggier texture. Remove the cake pieces and place on the lined baking sheet. Freeze for 1 hour. *(It's important not to skip this step because the cake will be so soggy that it will fall apart when dipping in the hot chocolate. Freezing it first will make it nice and firm and easy to dip.)
When you're ready to dip the cake bites, melt the chocolate and shortening together in a double boiler until smooth. You could also do this in the microwave; just be sure to take it out and stir it every 30 seconds or so.
Get out a fresh sheet of wax paper. Dip the cake pieces in the chocolate with a fork and tap to get off the excess chocolate. Place on the wax paper and sprinkle with colored sprinkles, coconut, or nuts (the sky's the limit!). Refrigerate for at least 15 minutes for the chocolate to set. Makes approx. 12-15 bites.
Recipe source: very heavily adapted from an idea found on Swamp Hollow Designs