Ok, these are really terrible, horrible, no good, very bad pictures BUT I just had to post this recipe because it's just that good. I've had it saved for several months now, but for some reason just now got around to making it. Let me just say that I have now made these twice within a week. They're that good. Freaking awesome, in fact. The recipe is Josh's Famous Burritos – a recipe found in the New York Times a while back. Go to the store tomorrow and buy some steak – you need to make these. As soon as possible.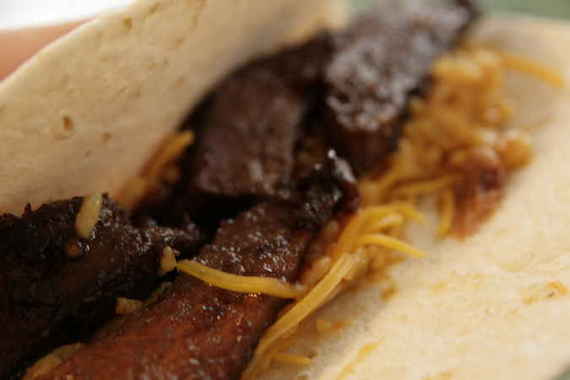 You'll notice that these don't really look like burritos – more like fajitas, in fact. This recipe needs the giant sized tortillas, but all I had on hand was the regular sized, so it didn't quite fold like it should've…oh well- it still tasted the same. It's really important to cook the meat at least an hour so it can get nice and tender and the liquid can cook down. The first time I made these (that's when the pictures were taken too) was definitely the best batch – I made them again tonight (for my parents, in fact) and they weren't quite as good as the first time – still freaking awesome, though. This famous Josh knows what he's doing, I'll say that.  I made just a few changes to the original recipe – it's one of those recipes that can be easily adjusted to your tastes; you can add or take away anything you want. I added a little of my favorite liquid steak seasoning to add a little extra flavor. I cut the recipe in half and had just enough for 4 people.
Josh's Famous Burritos
-NY Times
2 pounds skirt steak
2 pounds hanger steak (if hanger is not available, substitute additional skirt steak)
1 1/2 teaspoons garlic powder, or as needed
3 tablespoons mild taco sauce
3 tablespoons vegetable oil
2 yellow onions, diced
2 yellow peppers, diced (I omitted)
4 medium jalapeños, with seeds, diced
6 chipotle chilies in adobo sauce, chopped, 1 tablespoon sauce reserved
1 package Wick Fowler's 2-Alarm Chili Kit (I just used chili powder and cumin)
1 1/2 bottles Dos Equis Amber beer
1/2 cup prepared salsa, more for serving
flour tortillas, for serving
1 cup (lightly packed) chopped cilantro leaves, for serving
2 cups four-cheese shredded Mexican blend, for serving
2 cans refried beans, heated, for serving
1 box Spanish rice pilaf, prepared according to instructions on box, but made with 2 tablespoons salsa along with spice packet, for serving.
Preheat oven to 375 degrees. Lightly coat both sides of steaks with garlic powder and taco sauce. Place in a roasting pan and roast for 10 minutes. Turn steaks, sprinkle again with garlic powder, and roast for another 10 minutes. Cut meat into 1-inch slices and set aside.
Place oil in a very large skillet (14 inches or larger) over medium-high heat. Add onions, peppers and jalapeños. Sauté for 1 minute, and add chipotle chilies and sliced steak. Add all packets from Wick Fowler kit except masa and onion-and-garlic packets. Stir to coat well. Add beer, 1/2 cup water, reserved adobo sauce and 1/2 cup salsa.
Cook uncovered at a lively simmer, stirring occasionally, until most of the liquid has evaporated and sauce has thickened and coats meat, about 1 hour. Serve buffet style, allowing guests to assemble burritos in tortillas, filling them as desired with meat, cilantro, shredded cheese, salsa, refried beans and rice. For a classic burrito, fill tortillas, roll, then fold ends underneath.
Yield: 6 to 8 servings.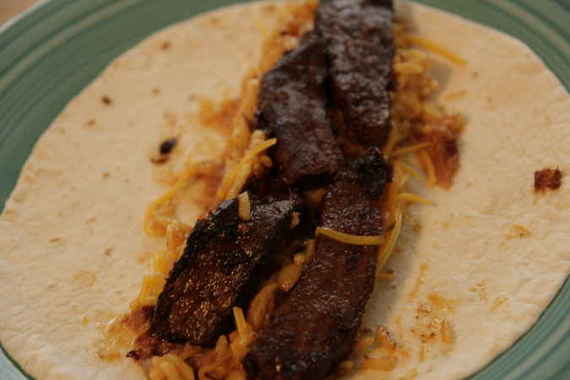 Again, please forgive the terrible pictures – I just couldn't keep this recipe from you, though! Do yourself a favor and make these burritos this week!