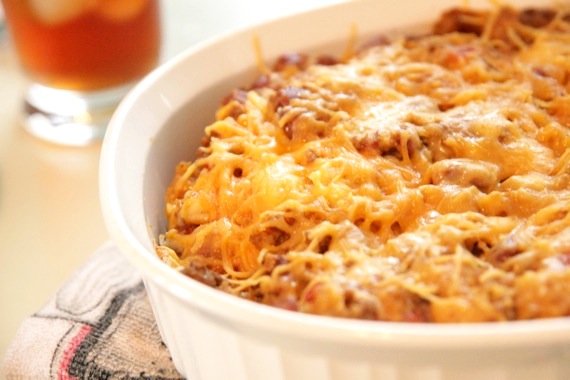 Here's another one of my mom's recipes. She's made this one for as long as I can remember and my family has always loved it! Mexican Casserole. It's super easy to make and always a crowd-pleaser. If you ever need a dish for a large crowd, I'd recommend this one- you can double or triple the recipe and even make it ahead of time. My mom makes a big one and freezes the leftovers- it keeps beautifully! Perfect for potlucks, Mexican-themed dinner parties or even Sunday Night Football!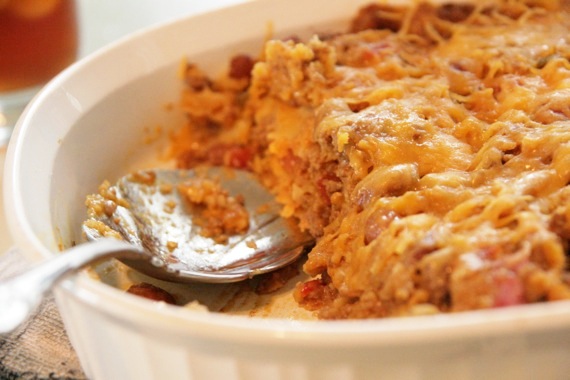 My Mom's Mexican Casserole
1 pound lean ground beef
1 can Ranch Style beans
1 10-12 ounce bag tortilla chips, crushed
1 can Ro-tel tomatoes
1 small onion, chopped
2 cups shredded cheddar cheese, divided
1 package taco seasoning
1 can cream of chicken soup
1/2 cup water
sour cream and salsa for serving
Preheat oven to 325 degrees. In a large skillet, brown meat and drain off fat. Stir in beans, tomatoes, onion, taco seasoning, soup and water. Simmer over medium-low heat until everything is well combined and heated through.
Grease a 9×13 casserole dish. Put down a layer of crushed tortilla chips, followed by a layer of the meat/bean mixture, then half of the cheddar cheese. Repeat layers. Cover with foil and bake for 20-30 minutes, or until bubbly.
Let sit for 5-10 minutes before serving. Top with sour cream and salsa. Enjoy!