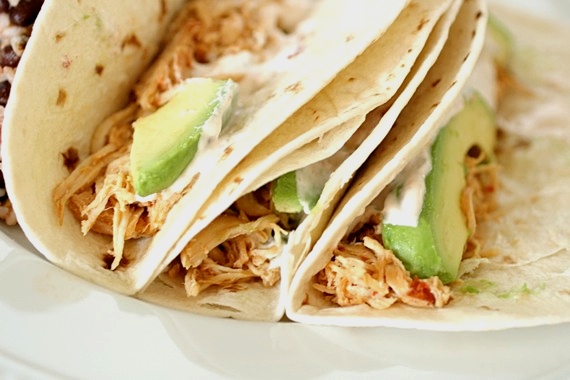 I can easily say this is hands down, the BEST meal we've had in a long time! In fact, there are leftovers in the fridge and I can't stop thinking about them! I dreamed up these tacos when I discovered chicken breasts and a couple of chiles in adobo stashed in my freezer. I had no idea they'd turn out this good. All it took was a brief description to my mom and she was off to the store to get all the ingredients! Spicy, moist chicken topped with a cool, creamy, smoky yogurt sauce…oh man, I'm getting so excited just thinking about it! You MUST make these tacos. You MUST.
Crockpot Chicken Tacos with Chipotle Cream
2 boneless, skinless chicken breasts
2 chiles in adobo, whole
1/2 teaspoon salt
juice of 1 lime
1/2 onion, chopped
1/2 red bell pepper, chopped
handful cilantro, stems and all (don't chop it)
1/2 cup water
flour tortillas
avocado for serving
Throw everything in the crockpot and cook on low for 6-8 hours. Remove chiles and set aside (you'll need them for the chipotle cream). Remove the stems of cilantro and discard. Using two forks, shred the chicken. Spoon into flour tortillas and top with chipotle cream and avocado. Serves 4.
Chipotle Cream
3/4 cup reduced fat Greek yogurt
reserved chipotle chiles from the chicken mixture, seeds removed and finely diced (at this point, they'll almost be mush after cooking for so long; all you'll need to do is mash them up a little)
2 tablespoons chopped cilantro
juice of 1 lime
salt
Mix all ingredients in a small bowl until combined.
*If you don't want your sauce too spicy (those chiles are hot!), you don't have to use the chiles at all- you can just spoon in a little of the adobo sauce from the can instead. You'll still get that awesome smoky flavor without all the heat.
Recipe source: Sing For Your Supper original