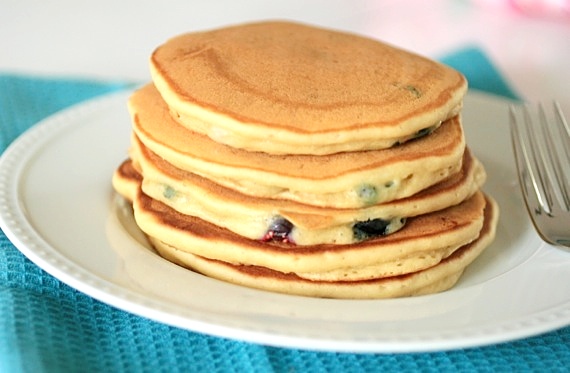 You know how everyone just LOVES pancakes?? …..yeah, notsomuch me or Joel. We've both never really been all that into pancakes. They're too rich and usually too much "work" for a mediocre result. Give me waffles any day. Cassidy, on the other hand, LOVES pancakes. I make them for her at least 3 times a week.
However, I've recently had a craving for hot, fluffy pancakes lately. I have no idea why. Luckily, I happen to find a recipe that wowed both me and Joel and I've never looked back. I'm now a big 'ol pancake lover! I just love how vanilla-y and fluffy these are! If you haven't gotten on board the from-scratch pancake train, this recipe should change your mind. It doesn't take long, and the results are far superior to anything you could get from a box! You could add in any kind of fruit you like to customize them to your tastes, too! We love blueberries!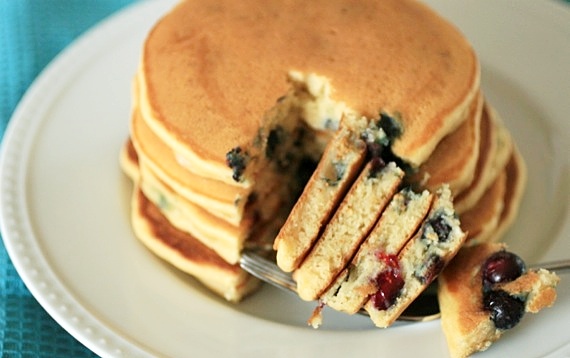 Perfect Pancakes
1 cup buttermilk **
1 egg
1 teaspoon vanilla
2 tablespoons sugar
1 cup all-purpose flour
1 teaspoon baking powder
1/2 teaspoon baking soda
1/2 teaspoon salt
2 tablespoons melted butter
Preheat a greased griddle to medium-low heat (if you're using non-stick, there's no need to grease). Whisk together the buttermilk, egg, and vanilla in a small bowl. Set aside. In a separate bowl, combine the flour, sugar, baking powder, baking soda, and salt. Stir in the buttermilk mixture, then the melted butter. Batter will be a little lumpy. Let sit for 5 minutes. Scoop out batter 1/3 cup at a time and pour onto the heated griddle. Cook until small bubbles start to form, then flip. Cook for another minute or so, then remove when golden brown. Repeat with the rest of the batter. Serves 2-3.
**If you don't have buttermilk on hand, no worries- just use regular milk, but add 1 tablespoon white vinegar and let sit for 2-3 minutes. Works like a charm!
Recipe source: adapted from Coleen's Recipes