I hope everyone had a wonderful, happy Christmas! We certainly did – we witnessed our very first White Christmas (in Texas!)!! It was totally wonderful (except the part where we had to drive home on frozen highways…not so much fun…). The weather lately has been totally unbelievable and completely wonderful – I'm sitting here typing this post watching the snow fall outside again! It's SO cool! And this time I'm very thankful to be watching it snow from the comfort of my home, instead of driving in it.
Anyway, this post is all about a wonderful tradition. Coffee cake. The coffee cake my family has eaten for breakfast every Christmas morning since the 80's (at least!).  It absolutely wouldn't be Christmas without it. Yuuuuummmm.  And yes, I realize Christmas is over, but I wanted to share the recipe because really, there's nothing "Christmasy" about this cake. It's just a simple, normal coffee cake that can be enjoyed any day of the year – we just choose to eat it on Christmas. But that doesn't mean you have to!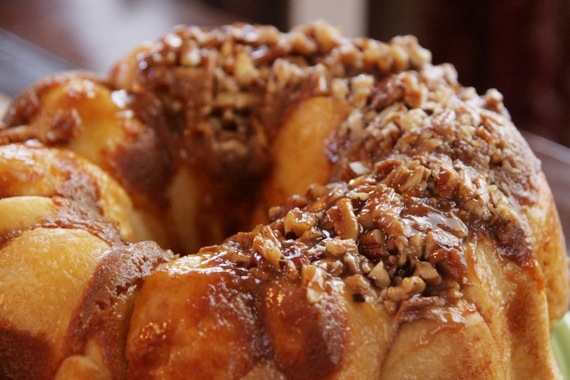 (If you're wondering why only half of it has pecans, hubby hates nuts, so I made it half and half….silly boy!)
This couldn't be easier to make – 5 ingredients total. Just assemble the night before, let it sit out overnight and bake it the next morning, and you've got delicious, gooey, coffee cake! Too easy! You've got to try this one!
Overnight Coffee Cake
1 package frozen white dinner rolls (I use Rhodes brand)
1 package butterscotch pudding (not instant!)
1 cup chopped pecans
1 stick butter, melted
1/2 cup brown sugar
Spray a bundt pan with cooking spray and sprinkle chopped pecans over the bottom of the pan. Arrange the frozen rolls in the pan and sprinkle with the butterscotch pudding mix. Mix the melted butter and brown sugar together in a small bowl and pour over the frozen rolls. Grease a piece of foil and cover the pan; let sit out overnight (do not refrigerate).
The next morning, preheat the oven to 350 degrees. Bake the coffee cake for 30 minutes, covered loosely with foil. Let sit out for 10 minutes before inverting on to a platter and serving.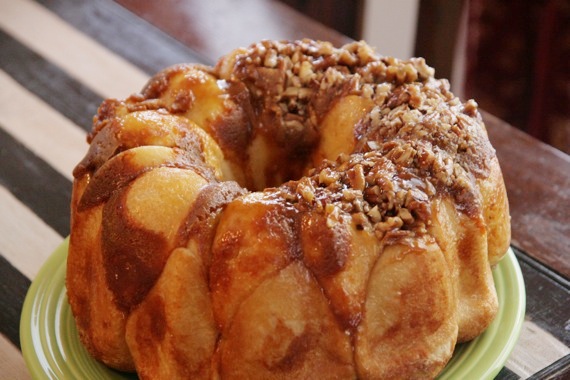 I really don't recommend omitting the nuts – it just doesn't turn out the same (as you can see on the left side of the cake…) – they're really necessary, in my opinion. This is a wonderfully delicious breakfast treat – give it a try this weekend! It would make a great New Year's Day breakfast!