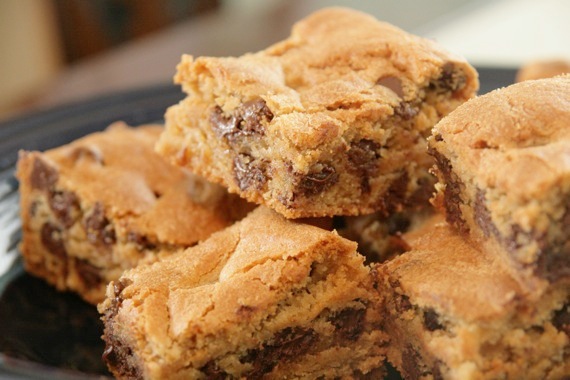 It was only a few days ago that I saw these on Bridget's blog, Bake at 350 (one of my favorites!) and I immediately made them. My fellow opera choristers asked if I would make cookies for our hard-working chorus master as a gift for opening night; of course I decided these would be perfect. Everybody loves the combination of peanut butter and chocolate! Plus, I just love how simple and quick they are to make- mix all the ingredients, throw it in a pan and you're done! And did I mention how delicious they are?! Oh boy….soft, chewy, slightly gooey from the chocolate chips and just a tad salty, which I just love. In fact, I was so impressed with these, I'm going to be making them (among lots of other goodies) for a friend's housewarming party in a couple of weeks. These are just the perfect dessert to make when you're craving something sweet, soft and chewy- so quick and easy and oh-so satisfying!
Peanut Butter Chocolate Chip Bars
–Bake at 350
6 tablespoons unsalted butter
1/2 cup peanut butter
1 cup sugar
1/4 cup light brown sugar, packed
2 eggs
1 teaspoon vanilla
1 cup flour
1/4 teaspoon coarse salt
1 teaspoon baking powder
1 cup chocolate chips (semi-sweet)
Preheat oven to 350. Lightly grease an 8 x 8″ pan (I doubled the recipe and used a 9 x 13 pan)
Whisk together the flour, salt and baking powder. Set aside.
Cream the butter and peanut butter together until smooth. Beat in the sugars until combined.
Add the eggs, one at a time, scraping down the bowl after each addition. Stir in the vanilla.
Stir in the flour mixture. Add the chocolate chips, stirring until combined.
Spread the batter into the prepared pan. Bake for about 30- 32 minutes. Cool completely before cutting.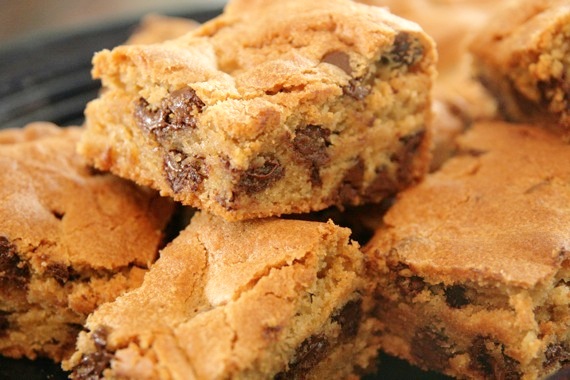 ***Oh, and don't forget about the cute-as-a-button sprinkle contest I'm in! Vote for my 'Bubble Bath' sprinkle mix here!!