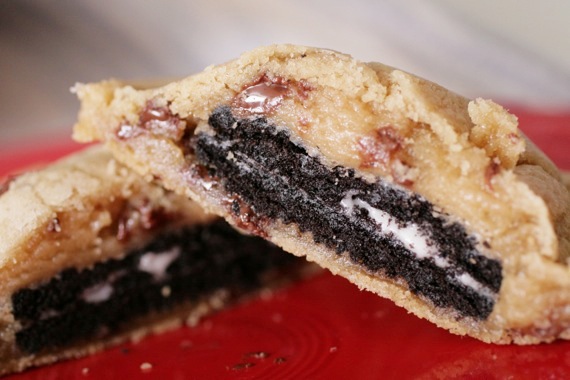 I have almost no words for these cookies…..almost. A few that actually do come to mind are…miraculous, ingenious, life-changing. Could anything stuffed with Oreos and baked to a golden, gooey deliciousness NOT be life-changing? I have the beautiful and talented Jenny of Picky Palate to thank for these. I saw them on her site just a couple of days ago and rejoiced when I discovered I had everything I needed to make them! Hallelujah! Based on so many of my recipes (S'mores-stuffed brownies, chocolate ganache-stuffed cookies, salted caramel-stuffed pumpkin blondies, etc…), I think it's safe to say that indeed, I LOVE "stuffed" desserts! These are no exception; soft, chewy, gooey…miraculous. You must try them.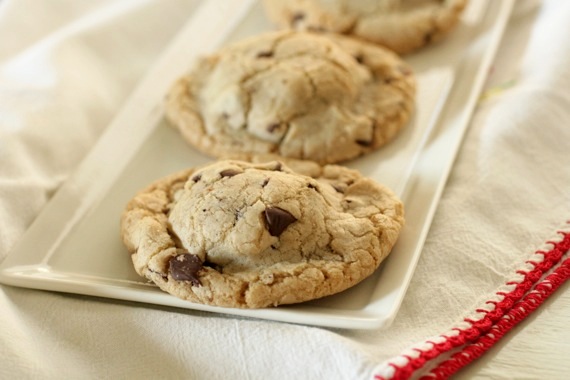 Oreo-Stuffed Chocolate Chip Cookies
–Picky Palate
2 sticks softened butter
3/4 cup packed light brown sugar
1 cup granulated sugar
2 large eggs
1 tablespoon pure vanilla
3 1/2 Cups all purpose flour
1 teaspoon salt
1 teaspoon baking soda
10 oz bag chocolate chips
1 bag Oreo Cookies
1.  Preheat oven to 350 degrees F.   In a stand or electric mixer cream butter and sugars until well combined.  Add in eggs and vanilla until well combined.
2.  In a separate bowl mix the flour, salt and baking soda.  Slowly add to wet ingredients along with chocolate chips until just combined.  Using a cookie scoop take one scoop of cookie dough and place on top of an Oreo Cookie.  Take another scoop of dough and place on bottom of Oreo Cookie.  Seal edges together by pressing and cupping in hand until Oreo Cookie is enclosed with dough.  Place onto a parchment or silpat lined baking sheet and bake cookies 9-13 minutes or until cookies are baked to your liking.  Let cool for 5 minutes before transferring to cooling rack.
Makes about 2 dozen VERY LARGE Cookies

**I actually used a different chocolate chip cookie recipe for mine, but they spread a little too much, which is why I went ahead and posted Jenny's recipe as-is; her's is probably better! 🙂