A few months before our wedding (golly, that was over three years ago!!) my sister gave me a very special cookbook.  She worked really hard collecting her favorite recipes, gathering pictures and getting everything organized and put together in a cute little book. I happened to think this was the coolest present ever since I had no idea how to cook, really- and had hardly any recipes of my own. But thanks to my big sister, I now had a nifty book full of tried-and-true recipes that were simple and no-fail. To this day, out of all the volumes of cookbooks I own (and trust me, there are quite a few!), I still turn to my homemade collection of Lindsay's recipes whenever I need a good, comforting meal. Some of my favorites include Fiesta Soup, Chicken Parmesan and the recipe I'm posting today – Cheesy Chicken Chowder.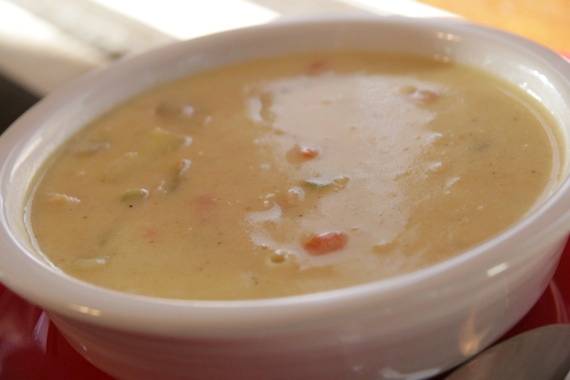 This one can't be beat- it's as simple as can be, yet totally delicious. Perfect for these cold evenings we've been having lately (love it!), and it makes enough for you to get at least two meals out of it. I love the chunks of potatoes and chicken, with the richness and creaminess that feels like it should be way more fattening than it really is (the most fattening part is the cheese melted in it)! This is one of those soups that always gets made every year as soon as the weather gets cooler – it's comforting, filling and down-right delicious!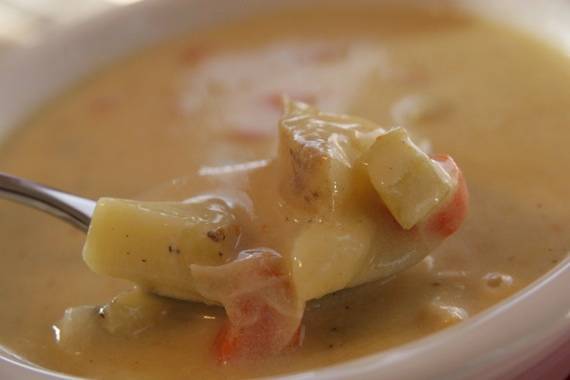 Cheesy Chicken Chowder
4 cups chicken broth
1 1/2 cups diced potatoes
1 cup diced celery
1 cup diced carrots
1/2 cup diced onions
1/4 cup butter
1/3 cup all-purpose flour
3 cups milk
1 tbsp soy sauce
1 teaspoon black pepper
8 oz Velveeta cheese, cubed (1 loaf)
2 cups chopped cooked chicken
Combine the broth and the vegetables in a large sauce pan. Cover and cook over medium heat for 15 minutes or until the vegetables are tender.
Melt the butter in a Dutch oven over low heat. Add the flour, whisking until smooth. Cook for 1 minute, stirring constantly. Gradually stir in the milk and cook over medium heat, stirring constantly, until thickened and bubbly. Gradually stir in the vegetable mixture, soy sauce, cheese and chicken. Cook until the cheese melts and the soup is thoroughly heated.