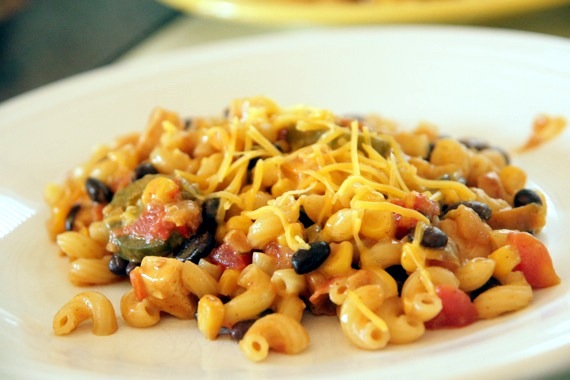 Here's another one of those versatile, simple meals that requires little time and can be made with things you already have in your pantry. It's relatively low-fat too! It starts out with a little macaroni pasta and the Sing For Your Supper Holy Trinity – Ro-tel Tomatoes, Mexi-corn and black beans. Throw in a packet of taco seasoning, a little milk for creaminess and cubed chicken and you've got a pretty tasty meal all ready to go! Some sliced zucchini or squash would be fantastic in here, too! Any veggies you like! Alternatively, you could use some ground turkey or beef if you don't have chicken on hand. That's the beauty of this dish- you can add in or take out anything you want to make it your own!
Creamy Southwestern Pasta
2 boneless, skinless chicken breasts, cut into 1-inch pieces
1/2 pound macaroni
1/2 an onion, chopped
1 yellow pepper, chopped
1 tablespoon olive oil
1 can black beans, drained and rinsed
1 can Ro-tel tomatoes
1 can Mexi-corn, drained (if your grocery store doesn't have this, regular corn is just fine. This is just corn with green and red peppers)
1 small packet taco seasoning (or you can use a homemade blend)
salt and pepper to taste
1/2 cup milk
1/2 cup cheese, divided
Boil the pasta until al dente. Meanwhile, in a large skillet, heat the olive oil and saute the onion and pepper over medium heat for about 7-10 minutes or until the onions are translucent. Add in the cubed chicken. When the chicken is cooked through, add in the tomatoes, beans, corn, seasoning and milk. Bring to a boil and reduce heat to low. Stir in the pasta and half of the cheese. Cook for 5 more minutes. When ready to serve, sprinkle the remaining cheese over the top. Enjoy!
*I also threw in some pickled jalapeno peppers at the end, but if you don't like heat, leave them out!