Yep. School has started up again. Moms and dads find themselves suddenly without the comfortable breathing room summer brings and back into that familiar, constantly hurried schedule for the next 9 months. Band practice, football scrimmages, choir concerts, student council meetings…. It's the same story for me, even. Although I have no kids, it's time for me, too to get back to school. Back to preparing high school girls for their All-State Choir auditions coming up. Back to being forced to constantly listen to, "OMG, did you see Glee last night?! It was like, SO awesome!"(….I'm SICK of Don't Stop Believin'). And back to being really, really busy. But that's really ok. I like my job very much. But like busy moms and dads, I know how hard it is to come home after a long day and get a nice meal on the table (except parents have to do it before it's time for band practice). That's why I've decided to help you out a little. Here are some of my favorite, EASY, quick meals, perfect for a busy weeknight. Hopefully it'll help make your life a little easier. At least on the dinner front. 😉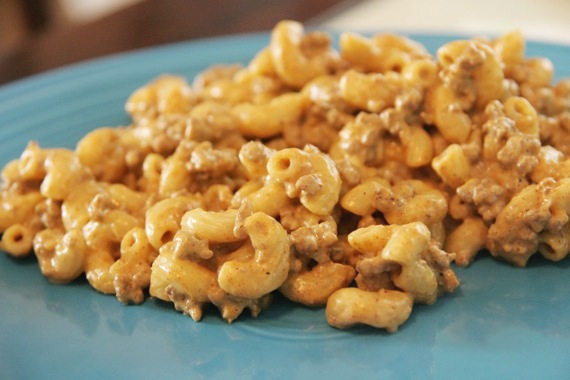 Creamy Taco Mac – just like it's evil, store-bought twin, Hamburger Helper, this is super quick and super easy! Although, not nearly as bad for you! You control what goes in it, and most importantly, it's super yummy!
No-Bake Stuffed Peppers – since you don't have to wait for these to bake in an oven, they take no time! This is my mom's recipe and every single time I make it, it's perfect. No fuss, and really, really good!
Southwestern Skillet – this literally takes minutes to make. Stock up on cans of corn, black beans and Ro-tel tomatoes, and you can make it anytime! This is perfect for leftover chicken or beef, and extremely versatile – add in any veggies you like!
Texas Chicken Quesadillas – I love these. My hubby loves these. How can you go wrong with caramelized onions, chicken, bbq sauce and cheese?! Golly, I'm drooling just thinking about them! If you have kids, they may not love the caramelized onion part, but who knows- they may discover a new favorite! You could always leave the onions out of the kiddos'…that leaves more for you! YUM!
Kung Pao Chicken and Fried Rice – don't order out for greasy Chinese food! Make this instead! Not only is it insanely quick and easy (the fried rice takes about 5 minutes, no kidding), it's GOOD! This is a favorite in our house!
Easy Weeknight Casserole – I think the title says it all. I make this all the time. It's comforting, hearty and most importantly, quick. Serve with a nice salad and you've got a good meal on the table in no time!
And since you can never go wrong with soup, I'm adding my 'Soups/Stews' tag to the list. They're all really, really easy and don't require much cooking time.
So there you have it- some of my favorite go-to meals when I'm tired after a long day. Hopefully they'll be helpful to you; who knows, you may even find some future favorites!