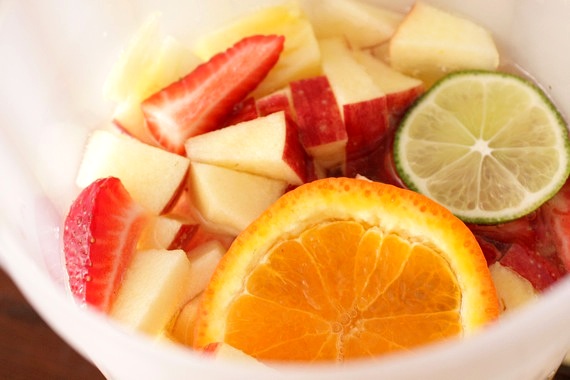 I know it's not technically summer yet, but we've already had our fair share of 90-degree weather here in Dallas. When it gets that hot, you need something cold and refreshing to cool you off.  Joel and I were working in the yard last weekend and got really hot; at the end of the day after all that digging, planting and sweating, a nice tall glass of this sangria hit the spot big time! I love drinks like this because they're so easy to adapt, depending on what you have in your kitchen. We had a tangelo (sort of a cross between an orange and tangerine- delicious!), an apple, some fresh strawberries and pineapple and limes. All you need is a couple of hours for chilling and you've got a totally delicious, refreshing sangria!
Sparkling Summery Sangria
1 bottle dry white wine (a Sauvignon blanc would be nice, or even chardonnay)
1 cup 7-up soda
1 tangelo or orange, sliced into thin rings
1 lime, sliced into thin rings
5 or 6 strawberries, hulled and cut into quarters
half an apple, cut into chunks
5 or 6 chunks fresh pineapple
Pour the wine and 7-up in a large pitcher and add the fruit. Chill for at least 2 hours before serving.
*feel free to use any fruit you have on hand- this would be great with just about anything! Melon, peaches, blueberries…anything you like!
Recipe source: Sing For Your Supper original