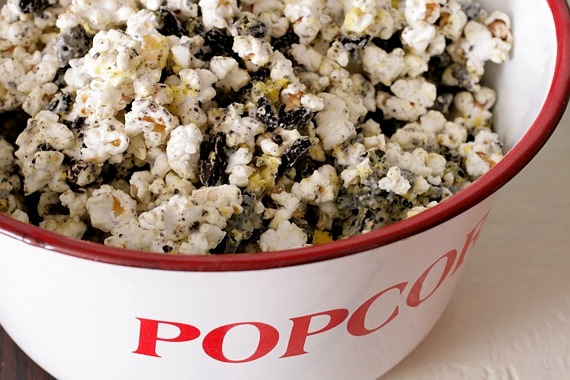 Warning: this snack is highly addictive and could cause awesomeness overload- a rare, but critical side effect to snack awesomeness. Munch with caution.
Remember when I made Bridget's Bunny Bait? Well, I happened to have leftover popcorn and white chocolate candy coating, then I looked over and saw a half-eaten package of Springtime Oreos (you know, the kind with the pretty yellow cream?)….a legend was born and a monster was created – I couldn't stop eating the stuff! This couldn't be easier to make and couldn't be more delicious. If you love Oreos as much as Joel and I do, this is right up your alley! Make it! Make it today!
Cookies and Cream Popcorn
1 bag popcorn, popped (I used the Fluffy White variety)
6 ounces white chocolate candy coating
10-15 Oreos, crushed or roughly chopped (I used the Springtime Oreos with yellow cream, which is why my popcorn has a bumble bee-type look) 🙂
Place the popped popcorn and Oreos in a large bowl. Heat the white chocolate candy coating in the microwave in 30 second intervals, stirring in between until melted and smooth.
Drizzle the white chocolate bark over the popcorn/Oreo mixture and stir to coat. Dump out on a large sheet of wax paper and spread into a single layer. Let cool and harden. Break into small pieces and serve.
Recipe source: Sing For Your Supper original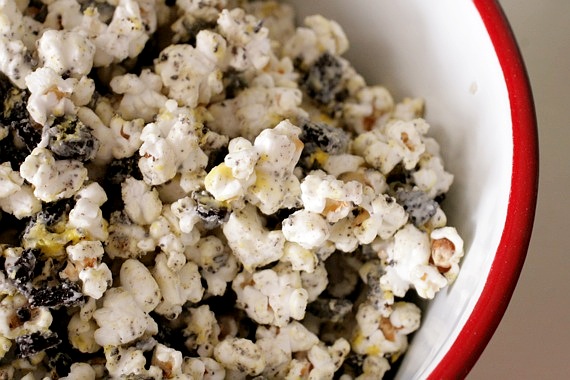 **I still get questions about this, so I'll clarify: white chocolate candy coating (or almond bark) can be found on the baking aisle next to the chocolate chips and nuts. It comes in 12 ounce packages, usually in 1 large block (it sort of resembles a large ice tray). You can use regular chocolate chips, but you'll have to refrigerate it to harden it before serving.