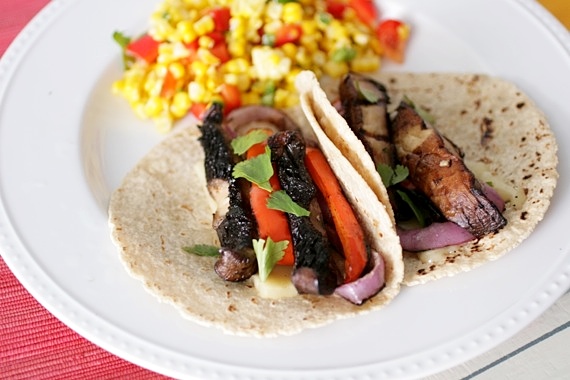 Happy May, y'all! It's going to be a good month, I can just feel it! It started off especially awesome since Cassidy slept until 9:30 this morning! Hallelujah! AND, Saturday is Cinco de Mayo, so you know what that means- Mexican food and margaritas all around! Yee haw! Speaking of Mexican food- Joel and I made these amazing mushroom fajitas Saturday and BOY, were they good! I'm kind of obsessed with mushrooms, so the idea of a fajita centered entirely around garlicky grilled portobello mushrooms is fantastic in my book! I marinated the mushrooms in a garlic/lime juice/oil mixture and Joel grilled them; then we topped it with pepper jack cheese and grilled onions and peppers. Served alongside my grilled corn salad (always a favorite!), this was one amazing meal!
Mushroom Fajitas
2 portobello mushrooms; stems removed and sliced into thick slices
1 red onion, sliced into thin rings
1 red bell pepper, thinly sliced
2 cloves garlic, roughly chopped
1/4 cup vegetable oil
juice of 2 limes
salt
cilantro
shredded pepper jack cheese
4 corn tortillas
Combine the garlic, oil and lime juice in a small bowl and toss with the mushrooms to coat. Allow to marinate in the refrigerator for at least 15 minutes. Sprinkle with salt and grill mushrooms over medium-high heat until soft, about 2-3 minutes on each side. Grill onions and peppers about 10 minutes until soft. Top the corn tortillas with the mushrooms, vegetables, cheese and cilantro. Squeeze over additional lime juice if desired. Serves 2.
Recipe source: Sing For Your Supper original